This is the classic drink. You will love it. We have other variations of it on the site as well.
Ingredients
2 shots of tequila
1 shot of triple sec or any orange liqueur
6 ounces of lime juice
Salt
Ice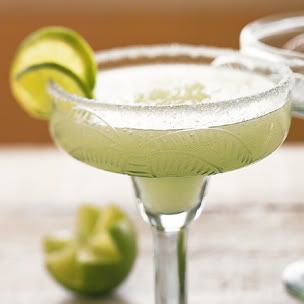 Instructions
Combine the tequila, triple sec, lime juice into a cup and stir. Add ice to cool off. Apply salt to the rim of the glass for garnish.
On a hot summer day, if your in the mood to sit back and relax, or if you want to relive your spring break days, try a frozen margarita. To make a frozen margarita, add all the ingredients to a blender with lots of ice and blend. This drink is a fantastic tasting drink. I personally prefer to drink it frozen instead of on the rocks. Frozen margaritas are delicious to serve to your guests. The flavor and taste is impeccable.
Besides the original margarita there are variations to add different flavors. For example you can make watermelon flavored margaritas, and even cheery flavored margaritas. Recipes for flavored margaritas will be given in the upcoming posts, so if you're a fan of the original margarita try a flavored one.